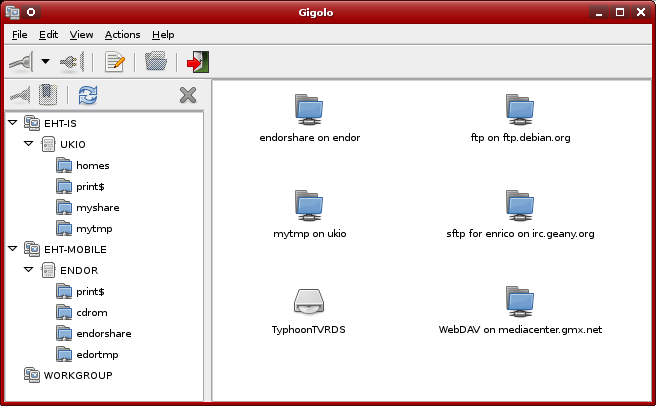 Gigolo
is a natty front-end for managing remote filesystems using GNOME Virtual File System (
GVfs
or
GIO
). Should you be interested in getting it?
Gigolo's key card is its minimalism. It's very, very efficient, and tucks a lot of the nastier protocol stuff out of view. The UI - user interface - is clean and bold, clearly segregated and obviously purpose-built.
While the great UI is going to be a plus for all users - it makes mounting filesystems a breeze, and you can patrol them using bookmarks (more on this later) - tucking all the protocols out of the way may not appeal to the Linux crowd. Why? Because Linux users are notoriously fond of tinkering with the inner workings of things, and here's they're not simply posted to a debugging console.
What about the power? Gigolo can use GIO or the new, GnomeVfs-beating GVfs to establish connections. GVfs is a protocol for talking to remote filesystems, and in the past, it's been limited to Gnome-based-only distributions.
That's cool as it doesn't rely on the user or the server running on Gnome, which forms the basis of many, but not all, of the manifold different Linux distributions. Instead, it's good enough to grab a recent GLib version - which you can do by checking your local repository for packages - and ensure you've properly set up your DBus system (usually sorted by your distribution, DBus is a way for applications to talk to each other) - so it's accessible to a wide range of users running a whole variety of distros.
Gigolo can connect to almost any kind of remote resource, from FTP (file transfer protocol - such as remote storage or pushing stuff up to the web) to special resources such as Burn (burn://), so you're left to choose a remote filesystem that works best for you.
Gigolo also makes short work of managing large numbers of remote servers, through the bookmarks pane. That's a nice addition - there's precious little software out there for admins who need to manage multiple remote connections that feels as good to use as Gigolo. The Bookmarks fill themselves automatically, providing rapid access to resources straight from the main pane - such as remote print$ resources or over-the-air CD-ROM drives.
But do we really need something so powerful? In a word, yes. remote filesystem management programs are only going to get more important in the modern, mobile-connected world.
Ultrabooks
rely on fetching data from remote filesystems - allowing them to stay thin and fast - and Gigolo could be a good solution for anyone running Linux on an ultrabook. Strong-performing remote management software like this is a boon to mobile Linux users everywhere.
Oh, and the name? There's a nice little quip on the main
website
about why it's called "Gigolo". Apparently, "it mounts what it's told to". Well, there's justification if ever you needed it.
---
Daniel Moeller was born in Berlin, Germany. He studied in London and wrote his thesis on social media marketing. Now he works for a London-based PR company. He also loves blogging about technology and social media in his spare time.